Woodsman Tavern
Editor's Pick
• $$ • Pacific Northwest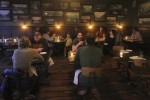 Dark woods dominate the Woodsman Tavern, the first food project from Stumptown Coffee Roasters owner Duane Sorenson. The state's bearded forefathers would feel at home amid these thick slab tables, cast-iron table legs, and atmospheric Edison bulbs. Chef Jason Barwikowski, who made a name for himself with edgy, rustic cooking at Clyde Common and Olympic Provisions, teams up with bartender Evan Zimmerman, an affable, geek-chic mixologist who serves up a flawless, whiskey-forward cocktail menu. Nothing screams Oregon more than the Woodsman's seafood bar—a showcase of the freshest West Coast oysters and crabs around. Meats undergo a similarly rigorous screening process: the carefully assembled "Country Ham Plate," for example, is an exquisite trio of porcine delights. Next door at the Woodsman Market, a bounty of epicurean pleasures awaits, from local salumi to Mexican Coca-Cola, fire-engine-red Sriracha, and imported sardines. In Sorenson's world of powerful culinary brands, the Woodsman is just the next step.
Last updated: 02/20/2013
Address

4537 SE Division St
Portland, OR 97206

Phone

971-373-8264

Hours

Mon-Fri: 5-10 pm
Sat-Sun: 9 am-2 pm, 5 pm-10 pm

Website
Please Note: Before making plans, please call ahead with the establishment to verify that this information is still accurate.