Voodoo Doughnut
• $ • Dessert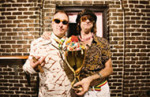 The jury's still out on the vegan doughnuts gleaming from the revolving case at this tiny midnight marauder of a doughnut shop in old town, but few loyal Voodoo adherents (except for the vegans) don't swear by the maple-bacon bar (yes, it has real strips of bacon on top). indeed, Voodoo owners Kenneth "Cat Daddy" Pogson and Tres Shannon, the savvy inventors of Nyquil and Pepto Bismol doughnuts (currently discontinued, most likely pending FDA, OLCC and USDA approval), have a virtual monopoly on unusual late-night sweet treats, as exemplified by the Memphis Mafia (glazed dough, chocolate chips, banana and peanut butter) or the Triple Chocolate Penetration (a chocolate doughnut covered with chocolate glaze and cocoa puffs). And while after-hours lines fill with everyone from innocent-eyed out-of-towners to glassy-eyed truck drivers and wired purple-haired teenagers, there's always a popular confection like the Dirty Snowball to match their— and your—taste.
Last updated: 09/25/2012
Address

22 SW Third Ave
Portland, OR 97204

Phone

503-241-4704

Hours

Open 24 Hours

Website
Please Note: Before making plans, please call ahead with the establishment to verify that this information is still accurate.