CLOSED: Vindalho
Editor's Pick
• $$ • Indian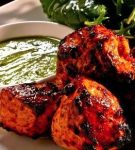 The sign above Vindalho's front door describes the food inside as "Spice Route Cuisine," but the pungent cumin and curry of India truly run the show here, emerging from the kitchen (equipped with two tandoor ovens) in the form of mild saag paneer, chicken tikka, and lamb kebabs. But while classic curries and freshly baked naan are served, there are also a few surprises: for instance, a summer melon chaat salad with mint, pickled onion, and cilantro pairs nicely with green beans battered in chickpea flour; seasonal chutneys punch up mild tandoori beef. Such rustic dishes, combined with fresh Northwest ingredients, will have you wondering whether pilgrims along the Spice Route didn't accidentally veer off onto the Lewis & Clark Trail at some point long ago.
Last updated: 10/22/2012
Address

2038 SE Clinton St
Portland, OR 97202

Phone

503-467-4550

Hours

Wed-Thu: 5-9:30 pm
Fri-Sat: 5-10:00 pm
Sun: 5-9 pm

Website
Please Note: Before making plans, please call ahead with the establishment to verify that this information is still accurate.