Uno Mas Taquiza
Editor's Pick
• $ • Mexican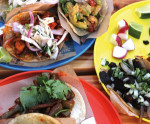 Chef Oswaldo Bibiano's cramped kitchen churns out an impressive lineup singing inside tiny, house-pressed corn tortillas. A collection of well-calibrated salsas in every hue of the chile spectrum greets you at a help-yourself station. Tender barbacoa brisket gains extra flavor from avocado leaves and juicy endiablado prawns live up to their devilish billing. The best choices are also the most daring: dark burgundy crumbles of Bibiano's signature moronga (blood sausage) or charred curls of pulpo (octopus) in a magnificence of red chile powder, epazote, and lime.
Last updated: 02/20/2013
Address

2337 NE Glisan St.
Portland, OR 97232

Phone

503-208-2764

Hours

Mon-Sun: 11 am-11 pm

Website
Please Note: Before making plans, please call ahead with the establishment to verify that this information is still accurate.