Toast
• $ • American/New American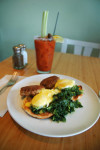 A man in a high-beam floral shirt greets us. He looks a bit like Tom Bosley from Happy Days. This early in the morning (OK, it's noon—so what?) his overall loudness is, at first, a shock to the system. But since everybody at Toast, from the waitresses to the cooks and washers pirouetting in the open kitchen, seems genuinely stoked to be making brunch, you can't really complain.
Perched at the long bamboo counter, we watch entrées float off the griddle and into a tiny, sunlit dining room. There's steaming homemade, perfectly browned flapjacks, sizzling patties of hand-ground sausage, and seared pork belly. But the truly impressive thing about Toast is its ability to wield gravy and grains with equal skill. A hot bowl of farro, tofu and veggies in a roasted onion broth (The Good Monk) is just as delicious as a salty, savory breakfast sandwich of fried eggs, thick bacon and herbaceous, whipped mascarpone. This latter dish is called the Bad Ass Sandwich, a nod to the building's former incarnation as Angie's Bad Ass Video.
Yep, an X-rated video store. Luckily for us and the dozen other diners munching happily away, pancakes—and neon personalities—have triumphed over porn
Last updated: 08/23/2012
Address

5222 SE 52nd Ave
Portland, OR 97206

Phone

503-774-1020

Hours

Wed-Fri 8-2, 5-9-
Sat-Sun 8-2

Website
Please Note: Before making plans, please call ahead with the establishment to verify that this information is still accurate.