The Ringside Steakhouse: Eastside
• $$$$ • Steakhouse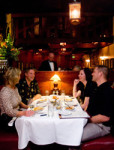 Just like its venerable Burnside location, this classic steakhouse caters to the meat-and-potatoes-and-martini diner. The Ringside's time-tested emphasis on meat that is "well marbled with fat, which makes it juicy & full of flavor," as well as top-notch seafood and chicken dishes, makes the Ringside one of the very few "can't-miss" restaurants in the area.
Last updated: 08/23/2012
Address

14021 NE Glisan St
Portland, OR 97230

Phone

503-255-0750

Hours

Mon-Thu 11:30am-2:00pm, 4:30-10:00pm
Fri 11:30am-2:00pm, 4:30-11:00pm
Sat 4:30-11:00pm
Sun 4-9:30 PM

Website
Please Note: Before making plans, please call ahead with the establishment to verify that this information is still accurate.