The Parish
• $$ • Southern/Creole/Cajun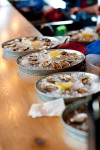 For their second act, the Creole food freaks and oyster lovers behind Eat: An Oyster Bar have brought their exploration of big easy cuisine to the heart of the Pearl District. Making its home in the building that used to house in Good Taste cooking school, the Parish feels like the elder sibling to its east-side counterpart. With French-blue walls, muted gray accents, and a weathered antique church pulpit serving as the host stand, the 4,000-square-foot space is bigger, brighter, and sleeker—as is the kitchen, where chef/ owner Ethan Powell and his kitchen staff can finally stretch out and play around. For the most part, Powell and co-owner Tobias Hogan have transported the highlights of Eat's menu across the river: a daily selection of fresh oysters on the half shell, a seafood gumbo laden with Yaquina Bay oysters, and a spicy shrimp étouffée. Baked oysters—a vegetal, parmesan- topped Rockefeller and a Bienville slathered in a decadent-beyond-words mushroom béchamel sauce—compete with roasted veal bone marrow for"richest dish."On the lighter side, a grilled quail appetizer marinated in a sweet and spicy sauce offers small but succulent bites, while lower-brow favorites like the crispy soft-shell crab sandwich stake the middle ground with satisfying authority.
Last updated: 09/20/2012
Address

231 NW 11th Ave
Portland, OR 97209

Phone

503-227-2421

Hours

Mon-Thurs: 11-10pm
Friday: 11-12am
Sat: 10-12am
Sun: 10-10pm

Website
Please Note: Before making plans, please call ahead with the establishment to verify that this information is still accurate.