Teote
Editor's Pick
• $ • Latin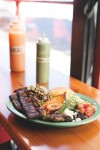 Nestled on SE 12th Avenue between Hawthorne's bustling traffic and Ladd's Addition's verdant maze is a fresh vision of Venezuelan eating. Behind Teote's bold, Technicolor exterior, aromatic cornmeal arepas, flavor-packed grilled meats, and a bar dispensing mezcals and chocolates merge into one of Portland's most exciting new finds. Teote is the brick-and-mortar reincarnation of Fuego de Lotus, a former SE Division Street food cart that served "inauthentic" arepas, thick cakes of fried masa popular in Venezuela and Colombia. With the upscaled digs, chef-owner Michael Kennett has taken a big step forward with an expanded menu and deeper flavors. Ten varieties of dialed-in arepas—perfectly golden, with a crackling exterior and fluffy masa center—anchor the menu, alongside a cast of grilled chops and ribs, fried snacks, and family-style dinners for large parties.
Last updated: 11/22/2013
Address

1615 SE 12th Ave
Portland, OR 97214

Phone

971-888-5281

Hours

Tuesday-Sunday: 11am-11pm

Website
Please Note: Before making plans, please call ahead with the establishment to verify that this information is still accurate.