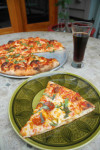 For a decade, former Canby farmer Mark Doxtader has been dishing out hand-tossed, wood-fired pizza slices to regulars at the Portland Farmers Market at Portland State University. At his restaurant, the formula is simple: thick layers of seasonal, local ingredients applied to a thin crust that's zapped to perfection in a wood-burning oven. The resulting pies (big enough for two) are rustic and somewhat messy, but in all the right ways. A tomato sauce, mozzarella, basil, and salami piccante pizza is light and airy. A pie of roasted peaches, pancetta, mascarpone, and arugula sounds heady, but when washed down with a frothy pint of ale from Hair of the Dog it feels and tastes undeniably Portland.
Last updated: 08/30/2012
Address

3220 SE Milwaukie Ave
Portland, OR 97202

Phone

503-234-0330

Hours

Wed-Sat 5-9:30 PM
Sun 5-9 PM
Closed Mon & Tues

Website
Please Note: Before making plans, please call ahead with the establishment to verify that this information is still accurate.