Tanuki
Editor's Pick
• $ • Japanese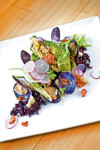 Tanuki's new incarnation on SE Stark Street is a cave of debauchery, with unbeatable izakaya (Japanese bar food) and a knockout drink list on the cheap. The menu is a dizzying array of pickled plums, kimchi spice, and fermented noodles, but don't panic—there's an easy way out. Order omakase (basically "chef's choice"): you name the price, and chef-owner Janis Martin will unleash a parade of spicy, salty, and sometimes unidentifiable plates for the whole table. Twenty dollars brings an onslaught of 12 gut-busting courses, from cinnamon-spiked, tea-stained quail eggs to Netarts oysters under an avalanche of shaved kimchi ice. Tanuki is Portland's ultimate izakaya joint: dark, delicious, and requiring no forethought. Grab a bottle of sake for the table, say "Omakase!" and settle in for an evening of hard eating. Just remember the rules from the original Tanuki on NW 21st Avenue: no sushi, no kids.
Last updated: 08/30/2012
Address

8029 SE Stark St
Portland, OR 97209

Phone

503-477-6030

Hours

Tue-Sat: 5-11 pm

Website
Please Note: Before making plans, please call ahead with the establishment to verify that this information is still accurate.