Sweedeedee
Editor's Pick
• $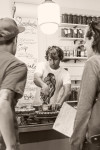 Oon a frumpy stretch of N Albina Avenue, Sweedeedee proudly serves "pie, breakfast and lunch." Outside, jars of tea "cook" in the sun. Inside, mason jars double as wall art and napkins arrive clasped in kitchen-bag ties. Music blares, and between the staff and customers there are more tattoos than in a Russian prison. Hourlong waits are a given. First impression: a been-there, laughed-at-that Portlandia moment. Second take: "Whoa, this food is really good. How do I get in?" Big portions, big flavors, wired-in details, great vibes, and just about everything under $10. That's Sweedeedee.
Last updated: 10/25/2013
Address

5202 N Albina Ave
Portland, OR 97217

Phone

503-946-8087

Hours

Mon-Sat: 8 am-4 pm
Sun: 8 am-2 pm

Website
Please Note: Before making plans, please call ahead with the establishment to verify that this information is still accurate.