Spring Restaurant
• $ • Korean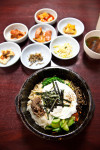 Little English is spoken here, and the menu is lengthy. Here's the deal: sit near the glass windows while munching on banchan, a collection of traditional snacks, from salty kimchi to chile-spiked sausage. Concentrate on noodle dishes, especially the spicy, soul-warming jjol myun (rice noodles, vegetables, hard-boiled egg). Potent stews like kim chee chi gae—a bubbling pot of fiery red broth, slivered pork, and silken tofu—will suck the chill right out of a Portland winter.
Last updated: 08/13/2012
Address

3975 SW 114th Ave
Beaverton, OR 97005

Phone

503-641-3670

Hours

Mon-Sat: 10 am-7 pm
Please Note: Before making plans, please call ahead with the establishment to verify that this information is still accurate.