Sok Sab Bai
Editor's Pick
• $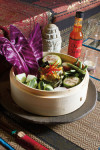 A pop of aromatic spices, fish sauce funk, and charcoal-grilled meats greet you on the porch of a converted craftsman duplex in the heart of the Clinton neighborhood. Inhale more deeply, beyond the lemongrass and chile heat, to discover a cuisine deep in freshwater fish, fruit, kroeung, and gingery galangal root. Welcome to Sok Sab Bai, a Cambodian spot with a fresh perspective on Southeast Asian cuisine. Former food-cart owners Nyno Thol and Tina Sanchez update Khmer traditions, delivering the likes of glazed pork-belly bun, catfish custard wrapped in banana leaves, and soups built on restorative broths. Khwsa ko sausage, tasting like a hot dog from heaven, arrives over rice with spicy house-pickled mustard greens and jalapeños.
Last updated: 07/31/2013
Address

2625 SE 21st Ave
Portland, OR 97202

Phone

971-255-0292

Hours

Mon-Sat: 11 am-9 pm
Sun: 11 am-8 pm

Website
Please Note: Before making plans, please call ahead with the establishment to verify that this information is still accurate.