Smallwares
Editor's Pick
• $$ • Pan-Asian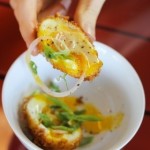 It takes a certain chutzpah to reimagine the five food groups in the baby-stroller stronghold of Beaumont Village. Chef-owner Johanna Ware offers not so much a menu as a rethinking of dinner, Asian cult foods, and Oregon larder all at once. In this bright enclave of red-lacquered tables, pop music, and flotsam-and-jetsam lamps, the snacking is fun and fearless—and so is the heat. No two small plates are alike, so order a collection to share. An evening's adventure can swing from a supremely elegant egg custard holding a shriek of chiles, pork crumbles, and fermented black beans—an homage to China's iconic mapo dofu by way of Japan—to a mind-bending "cobb salad" stocked with shishito peppers, fat wads of blue cheese, crispy-crunchy six-minute eggs, and kimchi mayo. Ware learned to twist Asian conventions with technical process at David Chang's famed Momofuku Ssäm Bar in Manhattan. She's the real deal, offering a friendly vibe, clever cocktails, and bargains through 2 a.m. in the back room Barwares.
Last updated: 02/20/2013
Address

4605 NE Fremont St
Portland, OR 97213-1723

Phone

971-229-0995

Hours

Mon-Sun: 5pm-1 am

Website
Please Note: Before making plans, please call ahead with the establishment to verify that this information is still accurate.