Sen Yai
Editor's Pick
• $$ • Thai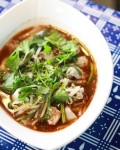 With Sen Yai ("big noodle"), Southeast Asian flavor savant Andy Ricker has taken the third leap in his march down SE Division Street, filling another formerly quiet corner of the construction-laden corridor with the smells, sounds, and sights of Thailand. The erstwhile home of Kappaya is now draped with colorful lights, with Thai pop music blaring from 8 am to 10 pm. Inside, an open kitchen abuts a super-casual dining room housing souvenirs from Ricker's ongoing Bangkok sojourns; outside, umbrella-capped picnic tables are prime perches for sipping a salted-plum vodka collins while watching lines form across the street at Ava Gene's and Salt & Straw. The Thai breakfast is a find, and the combined lunch-dinner list is built around an expansive repertoire of noodle dishes, from soups to dry to stir-fried. Remember to dip into the table condiments, as is Thai custom, or find yourself lamenting bland dishes.
Last updated: 09/04/2013
Address

3384 SE Division Street
Portland, OR 97202

Phone

503-236-3573

Hours

Mon-Sun: 8 am-10 pm

Website
Please Note: Before making plans, please call ahead with the establishment to verify that this information is still accurate.