Russell Street Bar-B-Que
• $$ • American/New American, Barbeque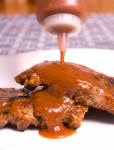 Aside from the porcelain pigs crowding shelves on every wall, the first thing you'll notice about the fir-appointed dining room is the kids. On jam-packed weekend (and even weekday) evenings, they sometimes outnumber adults. Which explains the warning scrawled on the chalkboard near the register: "Wandering children will be given a double shot of espresso and a puppy to take home." Blame the parental inattention on the slow-cooked pork ribs, slathered in five distinct varieties of barbecue sauce. But parents be warned: Unless you happened to wean your little bumpkin on bottles of habanero sauce, even the mildest rendition ("Virginia Kind," ostensibly tempered for "kids and delicate palates") will elicit urgent shrieks of "Too spicy!" Fortunately, the friendly management provides other diversions—mild chicken strips and ice cream sundaes—to keep the little ones eating happily while Mom and Pop pig out with utter abandon.
Last updated: 08/23/2012
Address

325 NE Russell St
Portland, WA 97212

Phone

503-528-8224

Hours

Sun–Thu 11 AM–9 PM
Fri-Sat 11 AM-10 PM

Website
Please Note: Before making plans, please call ahead with the establishment to verify that this information is still accurate.