Roe
Editor's Pick
• $$$ • Seafood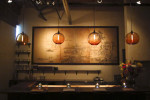 The quickest route to the Oregon Coast is through Wafu's back room on SE Division Street. Trent Pierce's slinky, amber-lit spot celebrates critters and bits found on foraging trips to the beach—from jewel-toned sea lettuces to tiny, skittering surf crabs—in a wild lineup of inventive, challenging plates. The reservations-only fine-dining experiment charges a premium for lavish but low-key service with a speakeasy vibe and small, fresh dishes with big, Japanese- and Spanish-inflected flavors—and it's worth every penny. You won't find a speck of Portland's patron pig, but you're likely to encounter raw sea urchin with roasted foie gras and a tarragon-spiked huckleberry sauce. While you can order à la carte, our money is on the $100 Grand Tasting Menu—a multihour aquatic odyssey with unique wine and spirits pairings.
Last updated: 11/26/2012
Address

3113 SE Division St
Portland, OR 97202

Phone

503-232-1566

Hours

Thu-Sat: 6-10 pm

Website
Please Note: Before making plans, please call ahead with the establishment to verify that this information is still accurate.