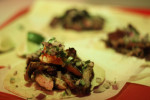 Surf rock tumbles through Robo's tiny space, with bright plastic robots lining the bar and an impressive collection of '90s action videocassettes weighing down the beverage dispenser. With homemade everything, a small menu of $2 tacos, and a late-night following, owners Jason Price and Jeff Sprague are doing something right. Flavors are decidedly earthy, including fresh corn tortillas, scorching colorful salsas, and slow-cooked meats. Go for the excellent carnitas (pork) or lengua (beef tongue) tacos or the marinated portobello, one of four vegetarian options. Expect to wait at least 10 minutes for your delicious bundles of pressed masa, especially on raucous weekend nights.
Last updated: 04/24/2013
Address

607 SE Morrison St.
Portland, OR 97214

Phone

503-232-3707

Hours

Sun-Wed: 10 am-12 am
Thu-Sat: 10 am-3:30 am

Website
Please Note: Before making plans, please call ahead with the establishment to verify that this information is still accurate.