CLOSED: Riffle NW
Editor's Pick
• $$$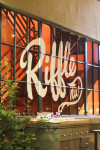 The story of Riffle NW begins with obsession—a deep respect for the ocean, the romance of Northwest fishing, and the simple joy of preparing and eating fresh fish. You can feel it in the bare bulbs hanging from weathered ropes and crab traps, the canvas sailcloth seat backs, and reclaimed dock wood tables. It ripples through a menu that puts the Pacific on a pedestal: salmon appears as slivers of beet-cured delicacy, dockside chowder swims gracefully with the best of the sea, and a perfect petrale sole is honored from head to tail, its salty, deep-fried skeleton perched on top like a graceful sail. Filleting your fish front and center is chef-owner Ken Norris, a New York transplant and lifelong fisherman on a mission to show Portland what serious seafood looks like. Impressive cocktails led by the Riffle Collins—a bracing revelation of gin, absinthe, and celery juice—feature enormous, hand-carved ices cubes. When night falls, the ambience swells—couples tuck away into dimly lit nooks, the bar becomes a symphony of clinking glasses, and Portland finally has the lure of the urban-modern seafood spot it's been missing.
Last updated: 10/16/2012
Address

333 NW 13th Avenue
Portland, OR 97209

Phone

503-894-8978

Hours

Tues-Sun: 5 pm-12 am

Website
Please Note: Before making plans, please call ahead with the establishment to verify that this information is still accurate.