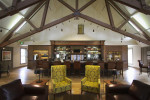 The 130-year-old Ladd Carriage House has a new life as a refurbished, multimillion-dollar project in downtown's food scene. The kitchen mixes Portland's familiar house-made pork terrines and wood-oven heat with Yorkshire puddings and crumpets befitting of an English carriage house. Chef David Padberg goes his own way with rabbit, putting it atop biscuits and in a garlicky Caesar—you don't want to miss it. Mixologist David Shenaut's "historically inspired" cocktails find new plays on classic flavors—try the Buck 'n' Breck (cognac with anise-forward absinthe, mellowed by Argyle spar- kling wine). Head to the former hayloft upstairs to soak in a setting worthy of the building's illustrious roots, courtesy of a gaping fireplace, a custom-built soapstone bar, a handsome billiard table, and leather furniture galore.
Last updated: 03/19/2013
Address

1331 SW Broadway
Portland, OR 97201

Phone

503-222-7673

Hours

Mon-Sat: 3:30 pm-12 am
Sun: 4-9 pm

Website
Please Note: Before making plans, please call ahead with the establishment to verify that this information is still accurate.