CLOSED:: Pupuseria Factory
• $ • Latin, Mexican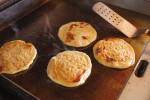 A menu with Salvadoran, Mexican, Guatemalan, and Honduran food could keep you guessing—and probably happy. But whatever you order, make sure El Salvador's signature tortillas, stuffed and fried into a compressed, quesadilla-like disk of glory, make the cut. The basic option with diced loroco
flowers and cheese is street food at its simple best, while the
guanaca
's addition of pork and beans will satisfy the most ardent pig-lover.
Last updated: 02/21/2013
Address

6728 NE Sandy Blvd.
Portland , OR 97213

Phone

503-284-2033

Hours

Mon-Fri 11am-9pm
Sat-Sun 10:30am-9pm


Website
Please Note: Before making plans, please call ahead with the establishment to verify that this information is still accurate.