Podnah's Pit Barbecue
• $$ • American/New American, Barbeque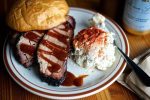 Any questions about the Lone Star State's culinary greatness? With unforgettable piles of pork ribs, red chili, and homemade cornbread, Podnah chef (and Texas food ambassador) Rodney Muirhead provides the unequivocal answers. Just give in to this smoke-scented eatery and gobble up the concoction of corn chips, chili, and cheese served on a Fritos bag that's been gently folded open. It's a lot to handle, but save room for the ridiculously tender brisket sandwich, a side of cornbread, and a little bowl of greens—which is there to cancel out the effects of a sweet pecan pie.
Last updated: 04/04/2013
Address

1625 NE Killingsworth St
Portland, OR 97211

Phone

503-281-3700

Hours

Mon - Thu: 11 am - 9 pm
Fri: 11 am - 10 pm
Sat: 9 am - 10 pm
Sun: 9 am - 9 pm

Website
Please Note: Before making plans, please call ahead with the establishment to verify that this information is still accurate.