Ping
Editor's Pick
• $$ • Pan-Asian, Chinese, Vietnamese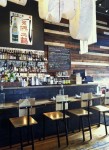 Ping pushes authentic pan-Asian street food to its limits—no surprise, given that Pok Pok mastermind and Asian street food authority Andy Ricker is a co-owner. The intriguing options include brined chicken butt on bamboo skewers, grilled baby octopus marinated in lime and garlic, and tiny bone-in pork chops on a bun, a street favorite in Macau. Wash it all down with a house-made plum drinking vinegar. You'll find a surprising collection of novelties here, and the izakaya-style menu—divvied up into easily digestible categories like Fried, Steamed, Boiled, Beef, Pork, and Noodles—encourages you to sample all the options, but don't miss the steamed pork buns or the pork collar in spicy dipping sauce. Plates arrive one by one, accompanied by saucers of sour yellow chile dipping sauce made with garlic, vinegar, and habanero peppers. The procession of bite-size dishes invites you to settle in and savor each smoky, sticky, crunchy arrival. Then, order another.
Last updated: 04/19/2013
Address

102 NW Fourth Ave
Portland, OR 97209

Phone

503-229-7464

Hours

Tue-Sat: 11 am-10 pm

Website
Please Note: Before making plans, please call ahead with the establishment to verify that this information is still accurate.