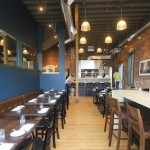 Greg Denton and Gabrielle Quiñónez Denton's mash-up of Argentine barbecue, Portland bravado, and French technique is the talk of the town. Ox's meaty love story is told over dramatic flames erupting from a hand-cranked grill that could pass for an elegant torture device. And holy smokes, let's not forget the formidable wild halibut—a thick monster that arrives on the bone like a vision of Morton's from the sea—or a clam chowder served with smoked bone marrow shouldering some fierce jalapeños. The intimate chef's counter is an essential destination—and close enough to the wood fire to literally feel the heat. But happiness can be easily found at clustered tables or the teeny bar, home of a righteously twisted pisco sour: smoky and ear-tingling under a billowing white egg cloud. Lest vegetarians feel excluded, this big-hearted kitchen also gets giddy with seasonal vegetables. Greg Denton's baroque inclinations are best in small doses, but the spare magnificence of his skirt steak or crackling fresh sausages will leave you licking your chops.
Last updated: 02/20/2013
Address

2225 NE Martin Luther King Jr. Blvd.
Portland, OR 97212

Phone

503-284-3366

Hours

Tue-Thu: 5-10 pm
Fri-Sat: 5-11 pm
Sun: 5-10 pm

Website
Please Note: Before making plans, please call ahead with the establishment to verify that this information is still accurate.