Otto's Sausage Kitchen
• $ • Sandwiches/Deli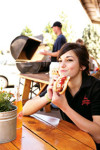 The Find: Old-fashioned German sausage
If this quaint delicatessen feels like a living room, that's because it is. Since German-born Otto Eichentopf migrated west and erected a Southeast Portland meat market in 1922, Otto's sausages have been prepared by four generations of Eichentopfs. No matter what the weather, piles of chicken, old-fashioned wieners, and pork sausages are fired year-round on the outdoor grill for neighborhood families who gather around the wooden tables for dogs dipped in Coney Island mustard with homemade sauerkraut and relish. Inside, you'll find all 40 selections of sausage, house-cured pastrami, and accompaniments like peppered jellies, imported mustards, local honey, European chocolates, and a generous selection of wine and German beers.
Last updated: 12/20/2012
Address

4138 SE Woodstock Blvd
Portland, OR 97202

Phone

503-771-6714

Hours

Mon-Sat 9:30 AM-6 PM; Sun 11am-5pm

Website
Please Note: Before making plans, please call ahead with the establishment to verify that this information is still accurate.