Olympic Provisions Northwest
Editor's Pick
• $$ • Pacific Northwest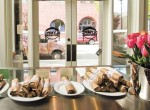 The charcuterie list shares the impressive salumi and sausages with the original Olympic Provisions in industrial Southeast, but the Northwest Portland branch is a completely different animal, with its own feel and flavors. Chef Colin Stafford makes his statement with a small and addictive repertoire of European and American dishes, pickled bites, seasonal soups, and salads. Laid-back entrées include rotisserie chicken, plump and juicy with crackling golden skin, and the fantastic, fire-flecked link of OP's chorizo Rioja, sitting alongside poached albacore tuna in a broth full of fresh shell beans and bitter Basque peppers. The best dessert plays off OP's charcuterie obsession: a bittersweet chocolate "salami," pockmarked with cookie crumbs, pistachios, and orange zest, then coated in powdered sugar to emulate the meaty version.
Last updated: 02/20/2013
Address

1632 NW Thurman St
Portland, OR 97209

Phone

503-894-8136

Hours

Mon: 11 am-3 pm
Tue-Fri: 11 am-10 pm
Sat: 10 am-10 pm
Sun: 10 am-9 pm

Website
Please Note: Before making plans, please call ahead with the establishment to verify that this information is still accurate.