Olympic Provisions
Editor's Pick
• $$$ • Sandwiches/Deli, American/New American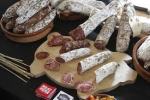 Set on the ground floor of the Olympic Mills Commerce Center, Olympic Provisions is Portland's inaugural salumeria. Since 2009, salumist Elias Cairo has been forging the resurgence of American charcuterie, flinging his specialty salamis and spreading his pork-proud gospel to the epicurean edges of the country. Charcuterie fiends can swing by the retail meat counter to pick up fresh sausages and house-cured meats, from fennel-pocked finocchiona to velvety slices of pistachio mortadella. Behind the meat display, former Clyde Common chef Alex Yoder transforms Cairo's masterful meat-craft into a rotating feast of Spanish and Mediterranean small plates. Shrimp bathed in chile oil and chevre or curls of baby octopus over corona beans and chorizo lend themselves to a skillful Old World wine list brimming with dangerously drinkable rosés and sherries.
Last updated: 02/20/2013
Address

107 SE Washington St.
Portland, OR 97214

Phone

503-954-3663

Hours

Mon: 11 am–3 pm
Tue-Fri: 11 am–10 pm
Sat: 10 am–10 pm
Sun: 10 am–3 pm

Website
Please Note: Before making plans, please call ahead with the establishment to verify that this information is still accurate.