Ocean City
Editor's Pick
• $$ • Chinese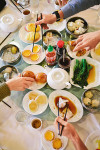 No worthwhile dim sum experience is complete without the following: a parade of multitiered push-carts squeezing through tightly packed chairs with the day's offerings; house specials not found elsewhere; and the joyful noise of entire Asian clans gathered around massive lazy Susan–topped tables and spinning a feast of barbecued pork buns, pinched dumplings, chicken feet, and all kinds of baked, leaf-wrapped, and steamed wonders. Ocean City delivers, and as at most dim sum houses, the selection is biggest and best on weekends (up to 100 options), and more exciting than the encyclopedic Chinese dinner menu. Come with a group and order wildly—anything that looks good. (Saucers average $2.75–3.75 for several pieces.) Zoom in on specials offered on trays, and don't miss the deep-fried shimp pressed around sugar cane or the divine golden egg custard bun.
Last updated: 02/20/2013
Address

3016 SE 82nd Ave
Portland, OR 97266-2024

Phone

503-771-2299

Hours

Mon-Fri: 10 am-11 pm
Sat-Sun: 9:30 am-11 pm

Website
Please Note: Before making plans, please call ahead with the establishment to verify that this information is still accurate.