Noho's Hawaiian Caf&eacute: Clinton
• $$ • Pan-Asian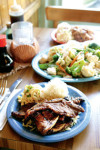 Sure, it's summer in Oregon, but sometimes the mango-sweet memories of that truly balmy vacation you took on Oahu this winter are hard to shake. When you begin to hear the roar of the North Shore in your head, ride that brain wave down to this urban surf shack, where the Hawaiian plate lunch (grilled or marinated meat accompanied by rice and mayonnaise-laden macaroni salad) is the big kahuna. Be forewarned: This isn't the most nuanced of food. But the char-grilled Korean-cut short ribs marinated in a sweet Portuguese-influenced sauce ($12.60 for a small; $18.10 for a large) and the shredded, spicy-hot Ono chicken ($8.15 for a small; $13.65 for a large) possess a certain saucy charm. And if the meat doesn't conjure the smell of salt and sand, there's plenty of mahi mahi (market price) and char-grilled teriyaki ahi (market price)–and for traditionalists, even a loco moco ($12.35 gets you three hamburger patties, two fried eggs, and large scoops of macaroni salad and brown gravy)–to transport you to palm-and-pineapple paradise.
Last updated: 08/14/2012
Address

2525 SE Clinton
Portland, OR 97202

Phone

503-233-5301

Hours

Mon-Thu 10:30 AM-9 PM
Fri 10:30 AM-10 PM
Sat 12-10 PM
Sun 12-9 PM

Website
Please Note: Before making plans, please call ahead with the establishment to verify that this information is still accurate.