Navarre
Editor's Pick
• $$ • Mediterranean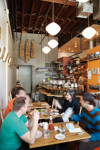 John Taboada pioneered a new east-side indie food style with this 33-seat eatery in 2002. He hand-built the interior for the price of a used car, then filled it with a local-farm gestalt, scholarly European village recipes, and his own definition of how a restaurant could be run—freewheeling, food-focused, and tenderly priced. In a city that prides itself on a farm-to-table ethos, nobody embraces the philosophy more completely: ninety percent of the produce is grown within the city limits. You won't find a more original seasonal menu anywhere: pear chocolate pie, candied fennel stems, lamb ham—if it's on the list, it was made from scratch in the kitchen. A lawlessness hovers in the air, and that's part of the magic.
Last updated: 02/20/2013
Address

10 NE 28th Ave
Portland, OR 97232

Phone

503-232-3555

Hours

Mon-Thu: 4:30-10:30 pm
Fri: 4:30-11:30 pm
Sat: 9:30 am-11:30 pm
Sun: 9:30 am-10:30 pm

Website
Please Note: Before making plans, please call ahead with the establishment to verify that this information is still accurate.