My Brother's Crawfish
• $$ • Southern/Creole/Cajun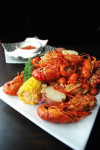 Two Vietnamese brothers who grew up in Texas open a Creole joint may sound like the start of a joke, but forsaking My Brother's Crawfish because of its owners' seemingly tenuous relationship to authentic N'awlins fare would be a mistake. We can say that this modest restaurant offers some of the best Creole cuisine in the city. The crawfish boiled in salty, spicy sauce and served with corn on the cob, potatoes, mushrooms, and andouille is the main attraction, but there are plenty of other perfectly executed entrées: the blackened catfish (a dish that's seldom done right outside of the Louisiana bayou), the gumbo, and the jambalaya are all genuine, and genuinely delicious, Creole fare.
Last updated: 04/04/2013
Address

8220 SE Harrison St
Portland, OR 97216

Phone

503-774-3786

Hours

Mon - Thu: 3 pm - 10 pm
Fri - Sat: 3 pm - 11 pm
Sun: 3 pm - 9 pm

Website
Please Note: Before making plans, please call ahead with the establishment to verify that this information is still accurate.