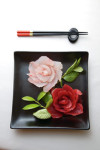 At the back of this unassuming box of a downtown restaurant, owner Ryoshiro Murata silently slices tuna belly and salmon skin, then deftly rolls them into soft, slightly vinegary rice and silky nori. But Murata's grace and skill go way beyond his sushi— which, by the way, is so masterfully prepared that it makes the offerings of most competitors in town seem like, well, cold fish. From the steaming hot pots of beef or seafood nabe to the chilled, piquant salads of rice-vinegar-soaked vegetables and fish or the braised, sake-marinated salmon cheeks, every dish here nods ceremoniously to the culinary traditions of bustling Tokyo as well as Japan's rural countryside. To get a complete taste of Murata's talents, sit back in a tatami room and savor the $100 kaiseki-ryori tasting menu (reservations required two days in advance)—an artistically rendered, seasonal, multicourse flurry of gastronomic gusto that will help you get your umami on.
Last updated: 07/30/2012
Address

200 SW Market, Ste 105
Portland, OR 97201

Phone

503-227-0080

Hours

Mon-Fri 11:30 AM-2 PM, 5:30-9:30 PM
Sat 5:30-9:30 PM
Please Note: Before making plans, please call ahead with the establishment to verify that this information is still accurate.