CLOSED: Milwaukie Kitchen & Wine
Editor's Pick
• $$ • Sandwiches/Deli, American/New American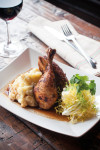 By day, this specialty market hosts good salt and wine, deli finds, and an excellent lamb sausage sandwich. By night, chef Pascal Sauton, Portland's dean of French cooking, whips up the most perfectly prepared bistro fare south of Sellwood. A patchwork of older couples and young parents gab over flatiron steaks seared in garlic butter, affordable French wine, and big burgers slathered in spicy sauce. The short, homey menu never challenges expectations; it delivers the optimal version of what you already wanted to eat, sided by really good potatoes. The silky shepherd's pie is an everyday luxury. Juicy roasted chicken pops out of the oven in a perfect state of crispness. By the time you remember to sniff at the dish's lack of innovation, nothing is left on your plate but bones.
Last updated: 02/22/2013
Address

10610 SE Main Street
Milwaukie, OR 97222

Phone

503-653-3228

Hours

Mon: 8 am-6 pm
Tue-Thu: 8 am-8 pm
Fri-Sat: 8 am-9 pm
Sun: 8 am-5 pm

Website
Please Note: Before making plans, please call ahead with the establishment to verify that this information is still accurate.