Michael's Italian Beef & Sausage Co.
• $ • Sandwiches/Deli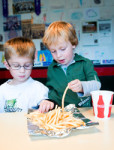 Behind-the-counter attitude at this chapel of hoagies and meatballs (right off the hectic intersection of NE Sandy Boulevard and E Burnside Street) can be fast and furious, even downright curt at times. But that's just part of the charm at this very un-Portland sandwich shop, where hot hoagie rolls are stuffed with Chicago-style Italian roast beef sliced thin, marinated in its own juicy gravy, and covered in sautéed peppers and onions; or with home-baked meatballs served "pizza-style" in tomato sauce; or with deliciously gut-busting Italian sausages. You can settle for chili dogs and cold veggie subs, of course, but those are hardly the main attraction here. Equal parts Midwest frankness, East Coast rabidity, and Italian gluttony, all under one West Coast roof, are what keep us coming back—that, and all that meat
Last updated: 08/23/2012
Address

1111 SE Sandy Blvd
Portland, OR 97214

Phone

503-230-1899

Hours

Mon-Fri 10:30 AM-9 PM
Sat 12 -9 PM

Website
Please Note: Before making plans, please call ahead with the establishment to verify that this information is still accurate.