Luce
Editor's Pick
• $ • Italian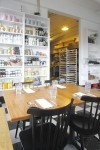 Luce is not easily defined. Think mom-and-pop grocery meets spare hideaway, as imagined by two eccentrics (Navarre's John Taboada and shop owner Giovanna Parolari) with great taste and a love for the "old-men places" in Italy, where the locals eat, shop, and drink. Candlelit shelves stretch from the floor clear to the ceiling, inviting a treasure hunt for imported foods and Italian wine finds, available to drink on-site for just a corkage fee. At tiny oak tables, an understated menu kicks off with a carnival of $2 antipasti bites begging for impromptu table parties and ends with double-decker sponge cake billowing pastry cream and pistachios. In between come a fine stuffed trout, a dandy bowl of spaghetti and clams, and the best bowl of soup to be found: cappelletti in brodo (stuffed pasta in broth). Two bites in, the question arises: have I stumbled into a Fellini movie, another roadside attraction in Lombardy, or a food lover's minimart as imagined in Portland? Yes, yes, and yes.
Last updated: 02/20/2013
Address

2140 E Burnside St
Portland, OR 97214

Phone

503-236-7195

Hours

Mon-Sun: 11 am-10 pm

Website
Please Note: Before making plans, please call ahead with the establishment to verify that this information is still accurate.