Lily Day Cafe
• $ • sandwiches, American/New American, Vegetarian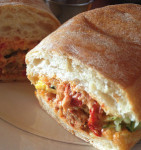 Never underestimate the power of a sister act. For two decades, Jennifer and Monica Ransdell fed crowds at Portland's original velvet-painting cave, sock-monkey heaven, and hipster paradise on SE Clinton Street: Dot's Café. The bespectacled 40-something sibs sold the restaurant last year, then jumped back into the game with a charming retro diner, slinging thrifty sandwiches, peppery soups, and dynamite baked goods. Lily Day just opened in February but already feels like a neighborhood institution. Masters of mood, the Ransdells now draw on '50s-era woodcuts, Doris Day record covers, piped-in jazz, kitschy salt and pepper shakers, and oddball coffee cups. Regulars tuck into snug red booths, sip old-school Kobos coffee, and dive into monstrous toasted sandwiches packing goat cheese, garlic, bacon, shredded zucchini, and vegan-friendly soyrizo. Despite its demure, kid-friendly demeanor, Lily Day's bar is well stocked. The Ransdells will happily pour you a "Red Eye Flight" any time of day: a glass of vodka on the rocks served with side shots of Bloody Mary mix and grapefruit and orange juices. So this is what it tastes like when hipsters grow up.
Last updated: 04/29/2013
Address

3524 SE 52nd Ave
Portland, OR 97206

Phone

503-774-1164

Hours

Sun-Mon: 9 am-3 pm
Wed-Thu: 9 am-3 pm
Fri-Sat: 9 am-9 pm

Please Note: Before making plans, please call ahead with the establishment to verify that this information is still accurate.