Lauretta Jean's Southeast
Editor's Pick
• $ • Bakeries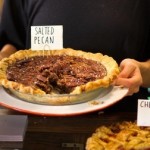 Even
on
the
worst
of days, a pie shop can put the world back on its axis. There's something about the smell of peak-season fruit, the beauty of a fresh-crimped, all-butter crust, and the audacity of custard, whipped cream, and three kinds of chocolate heaped in three-bite shells that makes your tongue laugh. Pie queen Kate McMillen doubles this happy factor with two locations: an airy Southeast café and a slice-size takeout shop on the edge of downtown. But a counter full of homemade pies is only the beginning. The Division location now offers a slice of something different: brunch, served on a delicious platter with fine cocktails to match. Expect egg-driven classics galore, fortified with owner and pastry whiz Kate McMillen's masterful butter craft.
Last updated: 04/19/2013
Address

3042 SE Division St
Portland, OR 97202

Phone

503-235-3119

Hours

Mon-Wed: 8 am-3 pm
Thu-Sat: 8 am-10 pm
Sun: 8 am-5 pm

Website
Please Note: Before making plans, please call ahead with the establishment to verify that this information is still accurate.