Ken's Artisan Pizza
Editor's Pick
• $$ • Pizza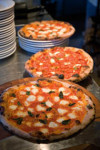 French-style bread baker Ken Forkish helped lead Portland into pizza's promised land in 2005 with experiments at his landmark Ken's Artisan Bakery. By '06, he'd spun his puffy-crusted wonders into their own restaurant, complete with a wood-fired oven, a serious Oregon-focused wine list, and a warm setting full of local salvage. Today, lines form by 4:45 for crust that's toasty and dusky with a nice blush of char, a delicate tomato sauce, and a dozen restrained topping combos, like green garlic with Grana Padano and pecorino or homemade sausage with fiery chiles. Ken's spicy soppressata truly elevates the art form, with joyful mouthfuls of crispy salami, wild heat, and smoky dough.
Last updated: 08/19/2012
Address

304 SE 28th Ave
Portland, OR 97209

Phone

503-517-9951

Hours

Mon-Sat: 5-10 pm
Sun: 4-9 pm

Website
Please Note: Before making plans, please call ahead with the establishment to verify that this information is still accurate.