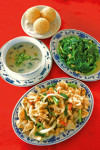 Pay no attention to the Petco sign glowing outside the window. There are brighter aspects to dining at Jin Wah, an Asian eatery tacked onto the end of a Beaverton mini-mall. The 14-page menu whisks you from Hong Kong to Hanoi with stops in Bangkok and Seoul, but really, Jin Wah is a Chinese restaurant of the highest order, with a kitchen capable of executing the full corpus of Cantonese cuisine. To ease the information overload, have the waitstaff help you navigate the sea of soups and legions of beef, seafood, pork, vegetable, and poultry dishes. A pork congee—rice porridge—studded with strips of preserved duck egg stands out, as does a plate of sautéed snow pea leaves slathered in a rich garlic sauce. The deep-fried, pepper-salted squid is so light and crisp you'll wonder how long it'll take Frito-Lay to catch on. During breakfast and lunch, the helter-skelter dining room is filled with dim sum carts piled high with seasoned noodles, dumplings, and other midday delectables. It may seem strange to be enjoying this bountiful feast next to TJ Maxx, but we consider it a mini-miracle. Jin Wah was featured in B is for Bacon…and Breakfast our March 2009 guide to Portland's best waffles, eggs, biscuits, hash, coffee, pancakes, bagels, omelets, pastries, doughnuts, dim sum, and more.
Last updated: 02/26/2014
Address

4021 SW 117th Ave
Beaverton, OR 97005

Phone

503-641-2852

Hours

Daily: 10am-11pm

Website
Please Note: Before making plans, please call ahead with the establishment to verify that this information is still accurate.