Irving Street Kitchen
• $$$ • American/New American, Southern/Creole/Cajun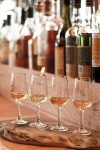 Irving Street Kitchen has done a lot to warm up the old, cavernous Bay 13 loft space. The new look sports a dark, rustic flair, complete with candlelight and cozy reds and browns. Upon entering, you'll first be faced with the bar, which is hooked up to 10 curved steel "taps" for their cask-to-tap wine system that offers cask wines from local producers, some of which are made specifically for the restaurant. They have a wonderfully long wine list, 6 luscious beers on tap, and a short but quality cocktail list. The menu is a mix of New American, padded with a touch of southern comfort food. They have an in-house hot seat-style charcuterie station, and all of their meats are prepared with the precise care of an artist.
Last updated: 04/19/2013
Address

701 NW 13th St
Portland, OR 97209

Phone

503-343-9440

Hours

Mon-Thu: 4:30-10 pm
Fri: 4:30-11 pm
Sat: 10 am-11 pm
Sun: 10 am-9:30 pm

Website
Please Note: Before making plans, please call ahead with the establishment to verify that this information is still accurate.