Hall Street Grill
• $$$ • Pacific Northwest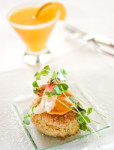 This classy stand-alone bar and grill manages to provide a solid argument for Beaverton gals to slap on Manolos instead of those tired Dansko clogs and go a-drinkin' right in their own backyard (not that they'd feel out of place wearing the latter here). The soft lighting, dark wood accents, sparkling copper-top bar and lively conversations here justify the effort to go the extra mile (both in fashion and driving terms)—even if you did have to fork out $40 for a sitter to make the whole thing happen.
Last updated: 02/20/2014
Address

3775 SW Hall Blvd
Beaverton, OR 97005

Phone

503-641-6161

Hours

Mon-Fri 11:15 AM-3 PM, 5-9 PM
Sat- Sun 10 AM-2 PM, 5-10 PM

Website
Please Note: Before making plans, please call ahead with the establishment to verify that this information is still accurate.