HA & VL
Editor's Pick
• $ • Vietnamese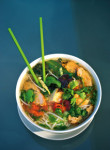 To find noodle soup paradise, jump off of SE 82nd Avenue into the hidden Wing Ming Square, walk past—or slow down and browse—the herb shop selling spore oils and deer-tail extracts, and you're there: HA & VL. Owners Ha "Christina" Luu and William Voung are artisans, crafting small-batch regional Vietnamese soups with flavorful free-range chickens, meticulously skimmed broths, and noodles fully soaked before taking a dip in the boiling pot to assure an extra bounce of chewy goodness. Every day brings two options, but Thursday delivers the ultimate double bill: snail noodle soup, with fresh-ground ginger sauce for dipping, and shredded chicken noodle soup as you wish your grandmother could make it, with punctuation marks of sliced pork and ribbons of fried egg. The Popsicle-colored café is part of the charm, and if you ask, Luu will whip up the best Vietnamese iced coffee you've tasted. Come early: the goods are often gone by noon.
Last updated: 02/19/2013
Address

2738 SE 82nd Ave
Portland , OR 97266-1504

Phone

503-772-0103

Hours

Mon-Sun: 8 am-4 pm
Please Note: Before making plans, please call ahead with the establishment to verify that this information is still accurate.