Good Taste Noodle House
• $ • Chinese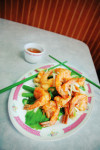 By now, most of us have come to accept the fact that truly good Chinese food can be difficult to come by in this town. Fortunately we can take the name of the unassuming joint known as Good Taste at face value. Of course, its strip-mall façade and shabby interior may deter some, but those looking for consistent Chinese food won't be disappointed. Although the original Good Taste, in Portland's Chinatown, presents an almost identical menu, the East Side locale offers the Super Bowl ($8.50), a slightly salty and sweet wonton soup that includes perfectly blanched bok choy, roast duck and pork, barbecued pork, egg noodles and handmade wontons stuffed with shrimp and fresh pork sausage seasoned with star anise. Accompany this soup with the Pepper and Salt Prawns ($8.50), an addictive dish of whole shrimp that have been fried in a delectable crust of salt and pepper. It's also hard to ignore those barbecued pigs and ducks hanging in the front window. Whether the spectacle titillates or scares, the barbecued pork and duck ($6.50) served here is undeniably the best in town. The meat is fresh-carved for each order and "good" doesn't even begin to describe it.
Last updated: 02/20/2014
Address

8220 SE Harrison St
Portland, WA 97216

Phone

503-788-6909

Hours

Mon-Sat: 9 am - 9 pm
Sun: 9 am - 8:30 pm
Please Note: Before making plans, please call ahead with the establishment to verify that this information is still accurate.