CLOSED: Gilt Club
Editor's Pick
• $$$ • Pacific Northwest, Continental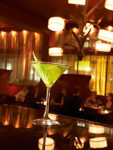 The Gilt Club handily carries this city's Rat-Pack-era torch: Candy-red booths and banquette seating offer just the kind of dim corners needed for successful surveilling, while Nancy Sinatra's teasing voice wafts from the speakers crooning the theme song to Tony Rome, a silly detective flick from the '60s that starred daddy Frank. Luckily the drinks served from the wave-shaped bar, parked like a wallflower by the front door—and adjacent to a dining room overhung by flamboyant, kitschy chandeliers that resemble a flock of illuminated snare drums—prove far more satisfying than the movie. Most of the cocktails spring straight from the time capsule, occasionally retrofitted with infusions and floral flourishes. Rosemary's Baby (the movie's star, Mia Farrow, was once married to…Frank Sinatra) is just a salty dog jazzed up with a hint of pine from muddled rosemary. The Upper Manhattan welcomes a blast of bing cherry to its bourbon base, giving it a warmer, rounded character. And the iconic Moscow mule, a drink that helped introduce this country to the potable potential of vodka after World War II, remains unsullied and correctly served in a copper cup, which beads with moisture as the lounger lingers over a crackling combination of vodka, lime and ginger beer. But the reigning champ on owner Jamie Dunn's menu is a brilliantly oddball concoction called the Idillic. While searching for fresh inspiration, Dunn recklessly threw serrano peppers—more flavorful than jalapeños but still packing heat—into a jar of tangerine vodka and let the mixture stew. A curious addition of muddled dill both mutes and transforms the pepper's potency and the tangerine's sweetness into a spicy, invigorating invention that belongs on any list of the top drinks in town. Even without a Sinatra reference, it's got a ring-a-ding all its own.
Last updated: 08/20/2012
Address

306 NW Broadway
Portland , OR 97209

Phone

503-222-4458

Hours

Mon-Sat: 5 pm-2 am

Website
Please Note: Before making plans, please call ahead with the establishment to verify that this information is still accurate.