Fressen Artisan Bakery
Editor's Pick
• $ • Bakeries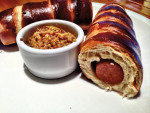 German baker Edgar Loesch, at last, has a permanent home to showcase the Old World breads and pastries that make his Portland Farmers Market stand an object of desire. Danishes hold extravagant perfumes—and possibly entire sticks of butter. Franconian rye, deep and licorice-y, begs for a ride home to your toaster. Potato bread, tasting of fresh-roasted tubers, body-slams its closest relative, the ubiquitous ciabatta. But nothing trumps the iconic Bavarian pretzel croissant: vigorously salty and a pure pleasure to chew. Loesch's storefront dream allows him to stretch in new directions: an artisan "pig in the blanket" gloriously bound in fresh-baked pretzel bread and handmade spätzle transformed into a humble dish of mac and cheese. Unlike the treats, the Soviet bloc atmosphere is far from heaven, but even in its half-baked form, this place is a find.
Last updated: 12/18/2012
Address

523 NE 19th Ave
Portland, OR 97232

Phone

503-953-3222

Hours

Mon-Fri: 7 am-3 pm
Sat: 8 am-3 pm
Sun: 9 am-1 pm

Website
Please Note: Before making plans, please call ahead with the establishment to verify that this information is still accurate.