Expatriate
Editor's Pick
• $$ • Pan-Asian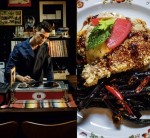 Candlelight spotlights what matters here: two turntables spinning vintage moods, outsized images of old European movies projected on the wall, drinks balanced like the scales of justice, and heat-seeking Asian snacks dispatched with ornate gold silverware. Then there are the corn dogs remodeled with spicy Chinese sausage, or the Korean fried game hen blistered beneath pickled watermelon ranch dressing. But Kyle Webster's eight nightly cocktails are the show, meant to pair with Naomi Pomeroy's loose take on Southeast Asian street eats. It could feel pretentious if all weren't so damn good.
Last updated: 01/22/2014
Address

5424 NE 30th Avenue
Portland, OR 97211

Hours

Mon-Sun: 5 pm-12 am

Website
Please Note: Before making plans, please call ahead with the establishment to verify that this information is still accurate.