Evoe
Editor's Pick
• $$ • Wine Bars/Small Plates, sandwiches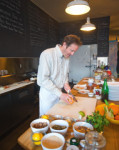 In 2009 Kevin Gibson, one of Portland's most accomplished chefs, left the high-end restaurant scene to become the master of his own universe inside the Hawthorne Pastaworks. Food formulas don't exist here. In a space no larger than a dorm room, Gibson's mood reigns whether he is grilling a cheese sandwich, slicing up wild-boar pâté with sour cherries, or rubbing anise into duck to be paired with fresh kumquat chutney—a dish you'd be thrilled to find at a fancy restaurant at twice the price. Check for a scallops salad—a Gibson signature—or squid baked in an earthenware crock with hot peaks of blood-orange aioli (garlic mayo). If you're on the run, grab one of the nearly dozen daily sandwiches. Best is the Little Bo Peep: exquisite lamb meatballs stacked with frizzy greens on ciabatta bread. Even by Portland standards, Evoe is quirky. But for anyone who loves great food, it's Exhibit A for why we are the envy of the country.
Last updated: 02/18/2014
Address

3731 SE Hawthorne Blvd
Portland, OR 97214

Phone

503-232-1010

Hours

Wed-Sun: 12 pm-7 pm

Website
Please Note: Before making plans, please call ahead with the establishment to verify that this information is still accurate.