Dove Vivi
Editor's Pick
• $$ • Pizza, vegan, Vegetarian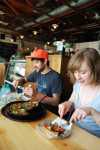 According to legend, the recipe for Dove Vivi's crusts has its origins decades ago in what might be called a taxicab kidnapping. Eventually, by a circuitous route, the crust ended up in the possession of owners Delane and Gavin Blackstock. There remains something distinctly mysterious and foreign, perhaps even...Californian, about this crust, but it is inarguably good. An amalgamation of locally milled organic cornmeal, Washington-grown wheat flour, olive oil, salt, and yeast results in a half-inch-thick slice, elaborately textured and slightly crispy. Sink your incisors into the kitchen's cult classic: fresh sweet corn, smoked mozzarella, and balsamic red onions. But check the specials list for unlikely combos and the realization that, somehow, handcrafted corned beef, sauerkraut, and zucchini pickle relish make sense on a cornmeal crust served in a humble, fun-loving neighborhood spot.
Last updated: 04/19/2013
Address

2727 NE Glisan St
Portland, OR 97232

Phone

503-239-4444

Hours

Mon-Sun: 4-10 pm

Website
Please Note: Before making plans, please call ahead with the establishment to verify that this information is still accurate.