DOC
Editor's Pick
• $$$ • Italian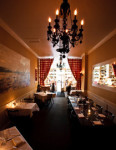 Dining at DOC is an immersive experience. Getting to your table involves walking directly past the mason jar–lined storefront, straight through the teeny kitchen (which doubles as entryway), and into the tiny, romantic dining room. DOC redefines the idea of the chef's counter, with every table positioned in view of Italian food lovers and chefs Jobie Bailey and Brian Scibetta at work in Portland's most intimate kitchen. The small menu boasts flavors foraged and farmed in Oregon, rapidly changing from week to week. A la carte options are available, but the five-course tasting menu rules at DOC: antipasti, primi (pasta and risotto), secondi (entrées), formaggi (cheese), and dessert, plus a bread course with olives. One day's produce might bring a haul of summer vegetables layered in lasagna, or a primi of lobster mushroom risotto sprinkled with chives. Wine man Austin Morris Bridges pours glasses by the full or half glass from one of Portland's best Italian wine programs.
Last updated: 02/19/2013
Address

5519 NE 30th Ave
Portland, OR 97211

Phone

503-946-8592

Hours

Tue-Sat: 6 pm-close

Website
Please Note: Before making plans, please call ahead with the establishment to verify that this information is still accurate.