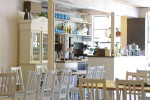 After years of creating extreme dinners in unlikely settings, 32-year-old Courtney Sproule has found a home for her elaborate Francophile parties. And with a chandelier-lit kitchen, wall-projected movies, and changing menus choreographed to tempt and amuse, the longtime acolyte of Portland's French food godfather, the late Robert Reynolds, has reimagined what a restaurant can be. This is Din Din, a sweetly designed, picture-perfect Northeast Portland reincarnation of Sproule's roving supper club of the same name—and a whimsical homage to her dad's nightly chortle, "What's for din din?" It's as original as anything in Portland, and as close as can be to eating in a friend's home.
Last updated: 10/16/2014
Address

920 NE Glisan
Portland, OR 97232

Phone

971-544-1350

Hours

Mon-Wed: 7:30 am-5:30 pm
Thu: 7:30 am-close
Fri: 7:30 am-close
Sat: 7:30 pm-close

Website
Please Note: Before making plans, please call ahead with the establishment to verify that this information is still accurate.